SBA'S PROVEN 5-STEP PROCESS
ASSESS THE EMPLOYEE
We have developed quantifiable online technical assessments that will identify skill gaps in BAS, HVAC, IT, Programming, Design, Sales, and Troubleshooting knowledge. We are able to compare your employee's results with the results from our existing student database. This enables you to quickly pinpoint skill gap weaknesses that are creating operational inefficiencies and occupant dissatisfaction. We will present a complete gap analysis to you along with recommendations on how to close those gaps.
PICK A TRACK
We have developed multiple course tracks that allow us to deliver focused training based on job role and skill set needs. In the case of your more senior or specialized employees we can build a customized track for you. Your employee will have online, on-demand access to the course track for a full year.
MEASURE PROGRESS
Our team provides regular reports on student status and we have built-in post-course assessments to ensure your employees are retaining the knowledge they have gained.
SUPPORT THE STUDENT
Because our courses are fully online, on-demand, we are able to provide access to our training anywhere your employee can get internet access. It is common for our customers' employees to stop and watch one of our videos when they are having difficulty performing a task. We have built-in discussion boards and live office hours for your employees to get further support.
VALIDATE THE RESULTS
At the end of the training period, your employee will perform the full assessment again. We have seen measured increases in the area of 50%+ per subject matter area. What this means to you is that your employees will be better able to execute tasks resulting in more profit per employee. Our average customers see a 20% to 50% increase across technical domains per employee. This results in greater efficiency and occupant satisfaction.
Want a concrete example? The chart below is a recent student's pre and post-assessment scores following our Technician Path: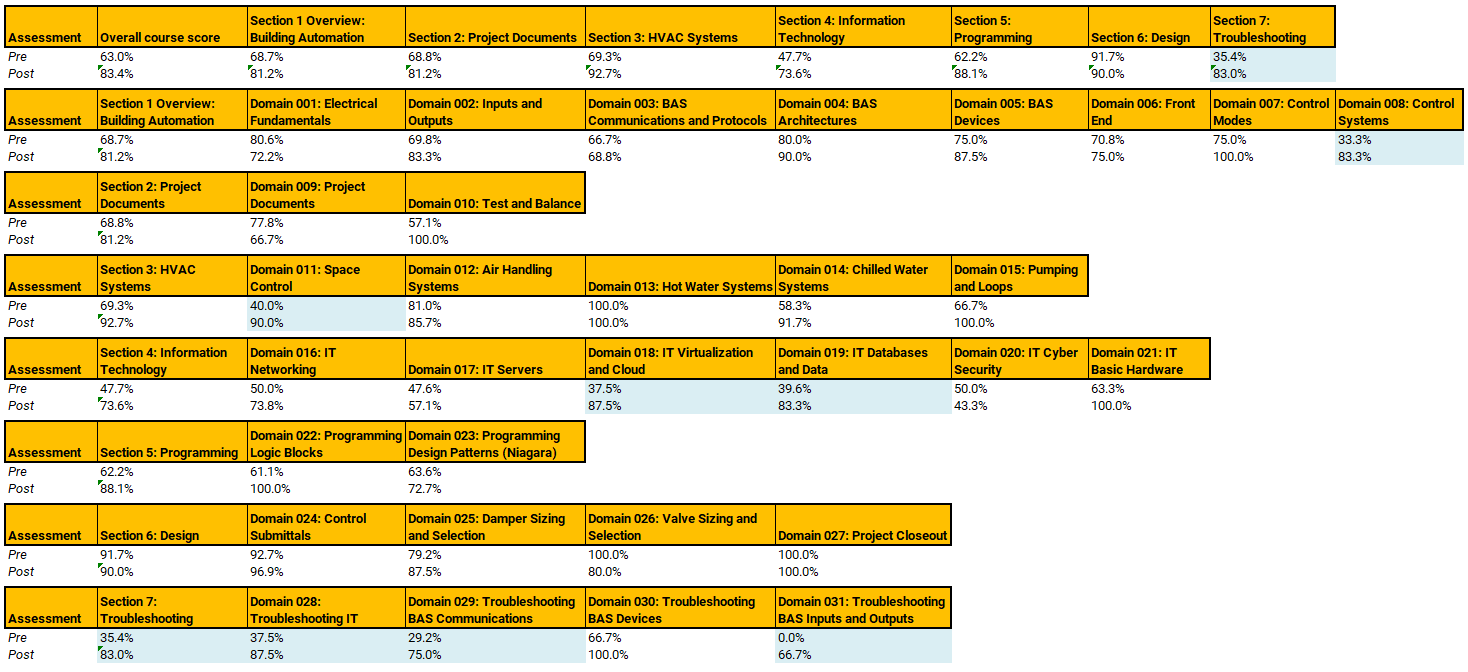 Book a Skills Assessment
Learn how you can identify the strengths and weaknesses of your employees.
Discover our unique skill validation and credentialing platform that validates your employees' knowledge. Use this information to fill in the skill gaps and increase your team's efficiency and improve occupant satisfaction.